Established in 1999, Como Fitness 24/7 has celebrated it's 20 Year Anniversary last year, locally known as "Como Gym", it has been a landmarked on the corner of Canning Hwy and Henley St all this time!
Como Fitness 24/7 is part of the local community and offers gym memberships, Personal Training, Exercise Physiology and Group Fitness Classes (HIIT and KeepFit Seniors classes).
 Why Choose Como Fitness
We Help You See Real Results
All Fitness Services in a single location
Staff and Trainers Expertise
24/7 Convenience with Personal Service
Exceptional value memberships and training
What started as a small gym catering to mainly older clientele, Como Fitness 24/7 is now a modern 24/7 access gym that offers everything that the community needs from its local gym.
With 425 sqm of floor space, it's BIG on the inside! Within this is a modern gym layout which includes:
open space for functional fitness
multipurpose Crossfit racks
multiple squat racks
spacious free weights' area
a large variety of cardio machines
traditional pin loaded machines
What sets Como Fitness 24/7 apart from the franchise "24/7 box gym" is the unique combination of 24/7 gym access, small group classes and Exercise Physiology and Rehabilitation Services.
The Gym has been extended  and modernised 2015, new cardio equipment purchased in 2017 and a refurbishment undertaken during the Covid shutdown
Unique to Como Fitness 24/7 are our "exercise experts", we have three (3) Exercise Physiologists offering exercise rehabilitation and two (2) experienced Personal Trainers.
With experience in bodybuilding, rehabilitation, endurance sport (triathlon/running/cycling), team sports (hockey / basketball / soccer / netball), martial arts, chronic disease rehab, joint replacement rehab, heart disease, cancer patients and DVA patients.
Having served the area for two decades, the business has strong links with local allied health practitioners (physiotherapists, chiropractors, etc.), medical practices, schools and other local businesses.
While Covid 19 has presented its challenges to all business, Como fitness 24/7 has bounced back and gross turnover for September 2012 was greater than September 2020.
It is very rare that a gym is celebrating a 20th year anniversary! Come and join your local!
Book your FREE 7 Day Pass so you can experience the many benefits of Como Fitness for yourself.
Community Atmosphere
Como Fitness is family owned and managed and has just celebrated 20 years as a landmark in the Como community. We have grown over the years due to word of mouth and built up an amazing community of members – some have been coming for decades! We are full of friendly, knowledgeable, and approachable staff to foster this community atmosphere and make coming to the gym a great experience for all fitness levels without the intimidating vibe of your typical chain gym.

HIIT Classes
Our HIIT classes are 45 minutes of compact high-intensity exercise designed to challenge you and build lean body mass and are FREE with membership. These workouts are planned to get the best out of you with zero thinking or planning involved – our trainers take care of the workout and all you have to do is show up! Our HIIT classes include a variety of movements focused on full-body strength and conditioning that can be catered to your fitness and experience level.

Expert Exercise Physiologists and Personal Trainers
Our Exercise Physiologists and Personal Trainers are experts in designing individualised programs to get rapid results based on your goals. Our range of staff cater to the full range of fitness levels from injury to sport performance leading the way with the latest scientific research to provide you with the most informed training and care.

Never Over-Crowded
Como Fitness has a wide range of equipment and functional fitness space to ensure you are never queuing for a machine or weight. Our space includes over 20 cardio machines, multiple squat racks, multiple cable machines, and multiple sets of free weights so equipment is always available. Unlike chain gyms, there is plenty of space throughout any time of day or night for you to focus on your workout without the inconvenience of crowding.

Small on the Outside, Big on the Inside
Como Fitness is a newly renovated facility with over 425 square metres of space inside. The Como Fitness space has doubled in size over the last 20 years with new flooring and functional fitness space added just over the Covid-19 shutdown period.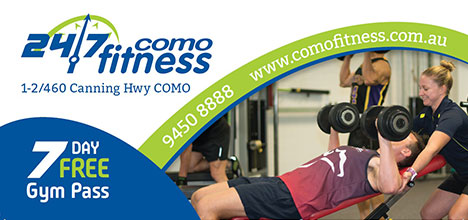 FREE 7 Day Pass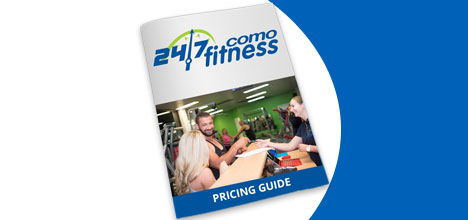 Pricing Guide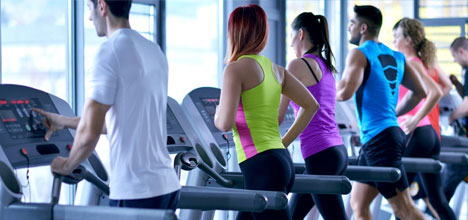 Win 3 Months Gym
(Drawn Monthly)